Delectable Morning Muffins
Prep 25 mins
Cook 25 mins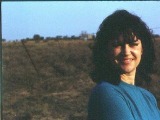 Created for RSC #13. These muffins are healthy, delicious, not very sweet, and the spices are just the right amounts. Can be eaten warm or cold. Great with butter and apricot jam!
Directions
Grease a 12-hollow muffin pan with butter. Set oven at 350 deg F or 180 deg Celsius. If you have a convection (fan) oven it's better to use slightly lower heat.
In a mixing bowl, whisk or beat very well together: the pumpkin, peanut butter, honey, oil and eggs. (If you grease the measuring spoon and cup with a little oil it is easier to measure and the peanut butter and honey will slide out).
Mix the dry ingredients in a separate, large bowl, from the flour on down to the sugar, including the spices. Stir well.
Add the wet ingredients to the dry ingredients, and fold in with a spatula or wooden spoon until just mixed and no dry bits remain. Fold in the chopped pineapple.
(If you find the batter is too firm, add a little of the saved pineapple juice to the batter. However, the batter must be soft and sticky, but just firm enough to hold its shape).
With a tablespoon, drop the batter into the greased muffin hollows. You can add heaped tablespoons slightly higher than the hollows. The batter will spread as it bakes.
Bake for 23 - 25 minutes in the centre of the oven, until puffed and golden brown. Turn out on to wire rack to cool.
Serving suggestion: you could mix cinnamon with confectioner's sugar and sift it over the muffins, OR simply serve as is, with butter and jam.
Reviews
Most Helpful
I have this in the oven now so will have to edit review after tasting but this is a great and versatile recipe - I used pear as I had no pineapple and used the juice instead of oil. Very easy to do and I am looking forward to sampling the end product. Edited after tasting - very good - peanut butter was the overpowering taste but that was fine for our family.
Moist muffins with a great texture. The flavor was a tad off...I think it might have been the peanut butter, but I'm not sure. I used an 8 oz. can of crushed pineapple, undrained. The batter is thick and fluffy and easily filled 18 muffin cups. They are not very sweet, but could be made sweeter with some jam or fruit preserves spread on them. They make a good morning muffin; I just need to figure out which ingredient needs to be left out or replaced. Made for RSC #13. Good luck, Chef.

I did not use oil eighter, i used the juice from the canned pinapple chunks. I also got 18 muffins which I baked for 25 minutes at 320°. Next time i will use roasted peanuts instead of peanutbutter. This is a great recipe if you want a healthy treat, thank you!