Delectable Dinner Rolls!!
Pixie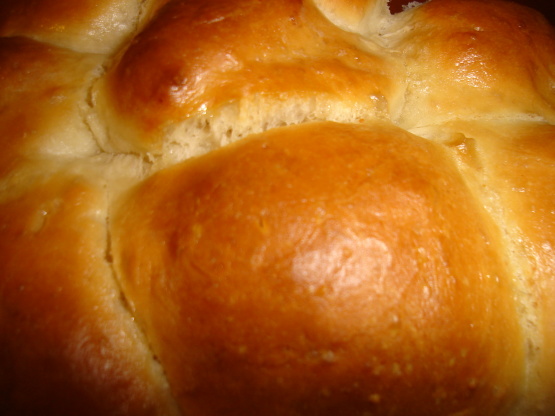 I found these in our newspaper and have saved the article ever since. They truly melt in your mouth!

I mixed this in my stand mixer and after about 5 1/2 cups of flour, I finished adding the rest of the flour on the counter and then kneaded to a nice consistency. I split the dough into two greased glass bowls and let rise for one hour. After punching the dough down, I ended up with 9 dinner rolls and about 7 buns (for hamburgers and such) which rose for 50 minutes. I loved the texture of the dough after the first rise. It was perfect and easy to work with! I thought this recipe called for a lot of flour, but it made ample rolls and buns. This made almost double my normal recipe and the ingredients for this recipe were simplistic to a fault. I omitted the salt entirely as my butter had salt in it and we cut salt where we can. I baked in preheated oven @ 350 for 22 minutes and they cam out perfect, golden brown. The texture! Oh my! These were amazing. My new "goto" recipe for buns and dinner rolls. I no longer buy store bread and this recipe is so easy that my job just got a whole lot easier! Thank you for an amaaaaaazing recipe. :)
Measure water into a large bowl.
Add yeast and stir until dissolved. Add sugar, margarine, egg, salt and half of the flour. Beat with electric mixer until smooth. Add remaining flour by hand until dough is easy to handle. Turn dough onto a floured board and knead for 10 minutes.
Place dough in greased bowl turning the dough until coated. Cover and let rise until double in size. Make dough into small balls and place on greased cookie pan with edges. Let rise until double again.
Bake at 350ºF.