Delectable Crayfish (Lobster)
ImPat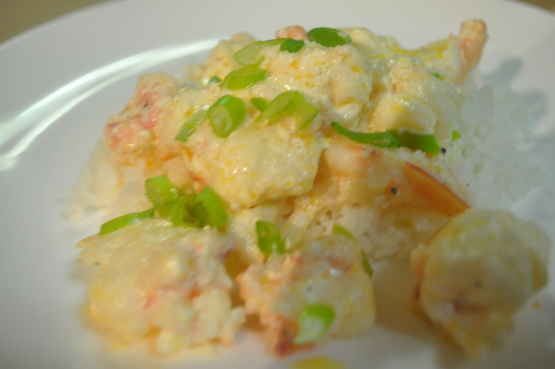 DH and I had this at restaurant in Canberra nearly 30 years ago, the chef cooked it at the table in front of us, so we have duplicated it many times. It is a special occassion dish or one we have when we want to spoil ourselves (as long as crayfish is in season). The serving size of 2 is for an entree over rice or for 1 over rice and steamed vegetables as a main. I have not included time if you need to get the crayfish meat out of the tail (usually 5 to 10 minutes).

Awesome, awesome, awesome. I was lucky enough to be given a cray the other day and wanted a change from garlic butter on the bbq. Thought this looked like an interesting recipe and more importantly had the ingredients on hand, though used Jim Beam instead. The only thing DH and I thought could be better was a bit more sauce but I'll try that next time. Thanks so much for this fantastic recipe, I've since sent a copy off to my friend who provided the cray and I'm sure he'll love it just as much.
170

g crayfish (raw meat - 6 ounces)

1

tablespoon butter
1⁄4 teaspoon Southern Comfort

1

tablespoon sour cream (we use light)

1

tablespoon Southern Comfort
1⁄8 teaspoon salt
1⁄8 teaspoon pepper

1

spring onion (scallion, finely sliced)
Slice crayfish meat into medallions.
Mix butter and 1/4 teaspoon southern comfort and melt in a small frypan (skillet) on a low heat.
Add crayfish meat and cook to meat colours but translucent at the centre.
Add 1 tablespoon of southern comfort and flambe, once flames settle move frypan of the heat, season with salt and pepper.
Put back on low heat, add sour cream and warm through.
Toss in spring onions and stir through.
Serve over rice.