Delectable Broccoli Salad
twissis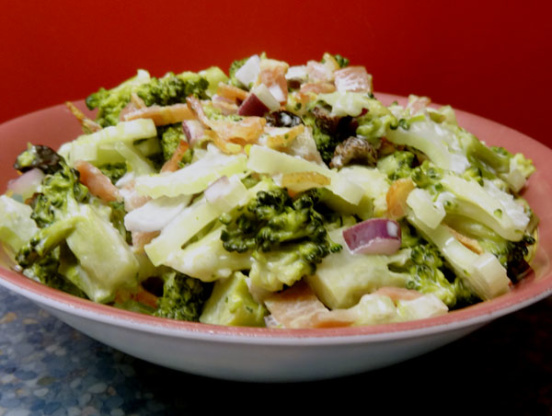 This is very similar to other broccoli salads I found on Zaar, but I couldn't find one just like it. This is from the Birmingham Museum of Art's cookbook, Culinary Masterpieces. (Birmingham, AL)

This tasted wonderful. I especially enjoyed the addition of raisins & the balsamic/ curry dressing. The dressing made it different than other broccoli salads I've tried. It was best served fresh so next time I might add the dressing to just enough of the veggies for a single meal. The addition of other veggies (red peppers, carrots, purple onion?) might create a more colorful dish for a potluck or gathering, but the taste is great as is. Thank you for sharing the recipe!
Combine the raisins and warm water in a small bowl, and let stand 5 minutes; drain. Combine the raisins, broccoli, bacon, celery, and sunflower kernels in a large bowl; toss well.
Combine mayonnaise, sugar, vinegar, and curry powder in a small bowl; wisk together. Spoon dressing mixture over the broccolie mixture; toss gently. Serve immediately.