Delectable Baked Orange Roughy
Prep 10 mins
Cook 20 mins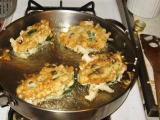 I love buttery, lemony white fish so I devised this simple recipe. For this dish, you can use roughy, tilapia, whitefish, halibut.... any nice white fish fillet. And this is a great way for NEWBIES to seafood to break in. The technique is pretty forgiving of mistakes and the fish WILL be done, but not overcooked. Enjoy!
Directions
Pull off four sheets of good quality aluminum foil, each about 24 inches long. Double each one over so it's a foot long and spray with the cooking spray.
Pre-heat the oven to 375-degrees F.
Lay out a fillet on each sheet of foil and pull the sides up a bit so that it will hold liquid.
Squeeze a half lemon over each fillet. Cut up the spent lemons into wedges and put the pieces around the fish.
Pour the melted butter equally over each fillet. Lightly dust the top of each fillet with the paprika. Instead of paprika, you could substitute Old Bay Seasoning, which yields an excellent flavor. In any case, you may not need all the spice, depending on the size of your fillets.
Close the foil and make a seal. Place the closed foil bowls into the oven, middle rack, and bake for 15 minutes.
Revove the foil bowls from the oven, carefully open them to expose the filets and place them all on a sheet pan. Re-set the oven to "broil" (on "high" if there is a setting), and return the fish to the oven just above the middle rack. Broil for just a few minutes until you see very slight browning, no more than 5 minutes.
Garnish with the parsley sprigs and serve hot with basmati rice on the side. (See: Recipe #217802 ). You can just leave the fish on the foil and place it on serving plates if you wish.
Most Helpful
This recipe was soooooo easy. It was as easy as it sounds. I skipped the parsley as I did not have any in the house. It was still wonderful. So easy. I am going to serve this to some friends coming over this weekend.
This was delicious!
I consider myself a pretty good cook but have never had any luck with fish. My daughter cried when I said we were having fish for dinner. This recipe was so simple and delicious that everyone ate it. Even my two year old! Thankyou!