Deidre's Extraordinary Chocolate Chip Cookies
Almond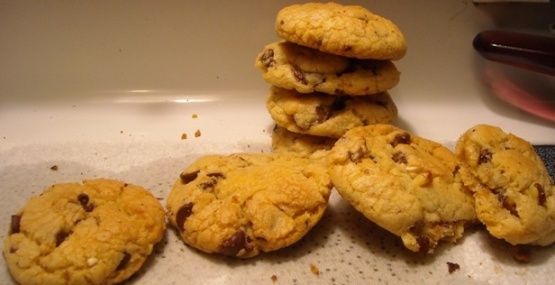 I cut this recipe out from a "Woman's World" magazine. It is a great recipe that is supposed to be All My Children's Deidre Hall's favourite.

Wow. Why has this recipe not gotten more reviews? It's truly a hidden gem and will leave the local bakery envious! This is the best chocolate chip cookie recipe I have EVER made. They look perfect and take just as good as they look. Thank you SO much for this recipe. I took the advice of others and used 4 1/2 cups of flour and also added 1 tsp of vanilla extract for flavoring. I took the cookies out 2 minutes ahead of the recommended time and the cookies were a beautiful brown shade (not burnt at all) on the bottoms and just beautiful on the top. These cookies were soft in the middle with a slightly crunchy outer crust JUST like we like them. My kids thoroughly enjoyed this recipe and I will def make this a family staple. If you are looking for a perfect cookie recipe..look NO further. Highly, highly recommend.
Preheat oven to 350°.
In a large bowl; beat sugars and butter until smooth.
Beat in oil, milk, vanilla, and egg until combined.
Add flour, salt, baking soda, and cream of tartar and beat until combined.
Stir in chocolate chips and nuts.
Roll into golf ball-sized balls, flatten slightly, and place 2-inches apart on baking sheet.
Bake 15 minutes or until slightly browned on top.