Annacia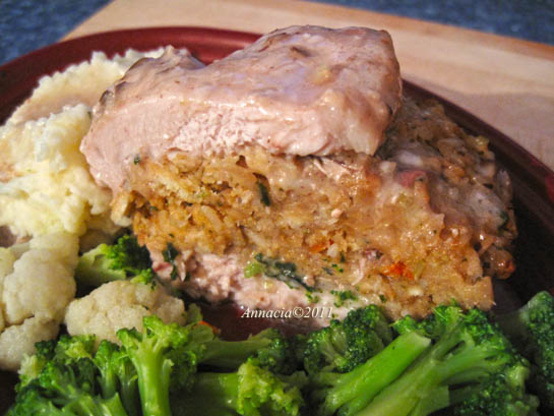 David likes these pork chops and they are simple but filling.

Very good and easy. I didn't cook it as long because my oven has a tendancy to overcook if I go by times. I didn't use the worchester sauce, because I didn't have any. I especially liked that I didn't have to go buy anything special and had all ingredients on hand. Thanks.
Sauté the onion and celery in butter.
Add to the stuffing mix, prepared with the amount of liquid indicated on the box.
Add egg and mix.
Cut a pocket in the pork chops; be careful not to cut yourself; I know that's funny coming from me, lol.
Stuff pork chops and place in a baking dish.
Shake soy sauce and Worcestershire sauce over the pork chops.
Sprinkle with Season-All salt, salt, and pepper.
Next, plop the mushroom soup, mixed with a little water, over the top to make a smooth gravy.
Cover with foil paper.
Bake for 90 minutes at 375 degrees Fahrenheit or until the pork chops are very tender. You can take the foil off for the last 10 minutes to brown the chops, if you want to brown them a little. Make sure you don't lose all the liquid or they will dry out.