Dee's Panko Breaded Pecan Salmon
ImPat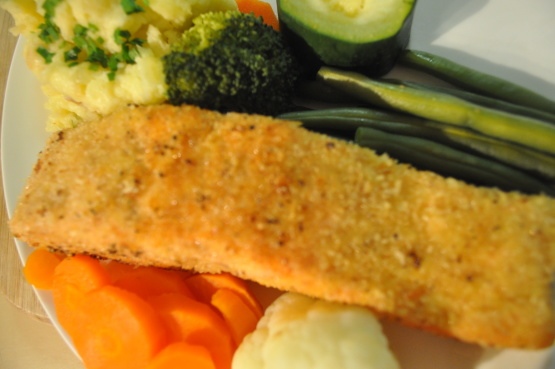 I made this recipe up after watching QVC's 48 dollar salmon. I liked the idea of theirs a lot; theirs was baked, mine is fried. This is a 3 bowl recipe like chicken fried steak but with salmon. If you are looking for low fat recipes, this isn't it, lol, but it does taste good. I do not use salt myself but I know other people do.

Top Review by ImPat
Thought I had everything ready to go with this only to discover no pecan nuts so had to go with walnuts otherwise followed recipe as written (scaled back for 3 with 3 fillets weighing hearly 700grams) but only used less than half of the panko crumbing mix, so would cut back on that in future and it was the first time I have done crumbed salmon and it was a different experience but enjoyable but would look at serving it with a lemon wedge and a light tartare sauce next time. thank you Dienia B, made for Everyday A Holiday.
Crush pecans until fine; add pecans to Panko bread crumbs.
Heat pan with oil; you may need more oil.
Beat egg in another bowl.
In another bowl have flour, salt if using, and pepper.
I buy the frozen indivudual salmon fillets and microwave them a touch so they are not cooked but not frozen either.
Dredge fish in the flour to which salt and pepper have been added.
Shake off excess flour.
Dip into egg and then into pecan bread crumb mixture.
Put in hot skillet skin side down.
Fry until golden; do not move fillets around a lot.
Flip over; fry on other side until golden and fish in center is cooked to your liking.
Touch it lightly like steak; be careful not to burn yourself. You can also check doneness with a knife.