faith58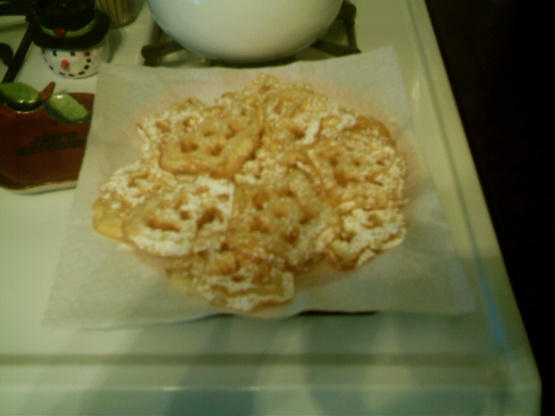 These are a holiday tradition at our house. I take the recipe and make it x 6. I take boxes, line with foil for family and friends. What I also do is have the powdered sugar ready and heat the oil in a fry pan next to the foil, that way when some are done it's easier to get them done and in boxes and we can eat some.. Also I use a whisk to mix the ingredients so they don't get clumpy Enjoy!! also I put aprox servings without the doubling or like me making it 6 times. cook time is of course with the recipe that I made it which was 6 times the original recipe.

Also a tradition in my family, and they are delicious. However, this recipe is showing up as "lighter fare" and "low in fat." They ARE deep fried, so anyone who tries the recipe should know that they are most definitely not low fat. They make a fantastic treat, especially during the holidays, but will never qualify as health food. :)
First heat oil to cook the rosettes in and get your rosettes iron nice and hot.
I heat my oil to 350.
Mix all ingredients with a whisk and dip your rosettes iron in batter and dip in heated oil. Take off iron, I use a knife to help slide it off and then put them on foil and sprinkle with powdered sugar and place in boxes.