Deep Fried Mushroom & Black Olive Chicken
Pagan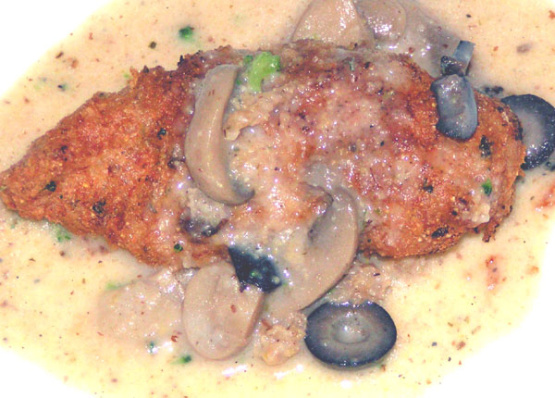 This is an Elswet original, which we often enjoyed until Diabetes came into our lives. It is a definite change to the standard Southern Fried Chicken, or even Smothered Chicken Fried Anything. The breading is light, the texture is deliciously moist, and the seasonings are just right...for us. Feel free to adjust the seasonings to suit your own. NOTE: We cook our chicken longer than is necessary due to personal preference, so our chicken is a nice rich mahogany brown color.

Top Review by Robyn
I saw the photo of this recipe and knew I had to make it, I was not dissapointed, this is a wonderful dish and so easy to prepare. The sauce I could imagine on many things besides chicken. I served this with baked potatoes and the sauce on the potatoes was excellent. Outstanding recipe, thank your wife for us!
GRAVY-Heat 2 tbsp oil in small pan. Add flour, 1 teaspoon salt, 1/2 teaspoon white pepper, parsley, and 1/2 teaspoon ground rosemary, olives, parsley, and mushrooms. Stir until mixed into a paste. Cook over medium heat until medium brown.
SLOWLY stir in the milk, until it is all used. Continue to stir to blend and prevent lumping, until desired sauce/gravy consistency is nearly reached. Remove from heat, and set aside. It will thicken upon standing.
CHICKEN-Mix together all seasonings in a large bowl. One at a time, rinse your chicken breasts, roll them in the flour until fully coated and drop into hot oil, carefully.
Deep fry until chicken is golden. The crust will be thin and delicate. Set on paper towels to drain. Place on plate, and ladle gravy/sauce over it.