eabeler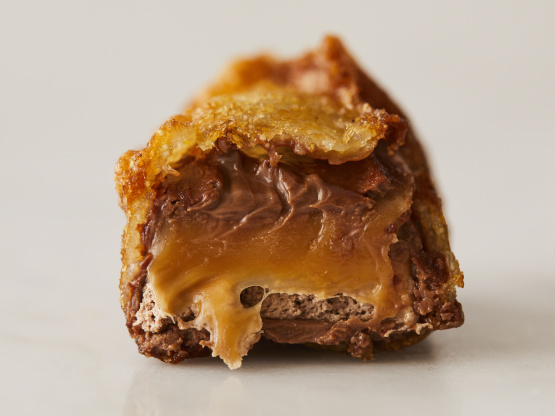 Invented in Scotland, this dish has now become famous worldwide. It is an excellent source of fat, sugar and calories. For a seasonal variation you could also try deep frying a Cadbury's Creme Egg.

Top Review by jbe467
MMMMMMMMM! Sinfully delish!!! We are unfortunately addicted to these now. We also tried this with Oreos (very tasty) Reeses Cups (so-so) and York Peppermint Patties (not so good). Next we will try Snickers and 3 Muskateers. Milky Way is by far the best. I had seen a Food Network show (Top Five) that had a segment on these and I had been craving ever since then, and this recipe satisfied that craving ten-fold. Thanks for sharing!!! Now if I could only find a copycat recipe for Chili's Chicken Crispers, I could die happy!!
Chill the chocolate bar by keeping it in the fridge, but don't freeze it.
Mix the flours and bicarbonate of soda (baking soda) together.
Add milk (traditional) or beer (which gives a lighter result) until you get a batter with the consistency of thin cream.
Heat the oil until a small piece of bread will brown in a few seconds, but don't allow to smoke.
Remove wrapper from chilled chocolate bar.
Coat completely in batter.
Carefully lower into hot oil and fry until golden brown.
Serve, with ice cream or french fries, if you're so inclined.