eabeler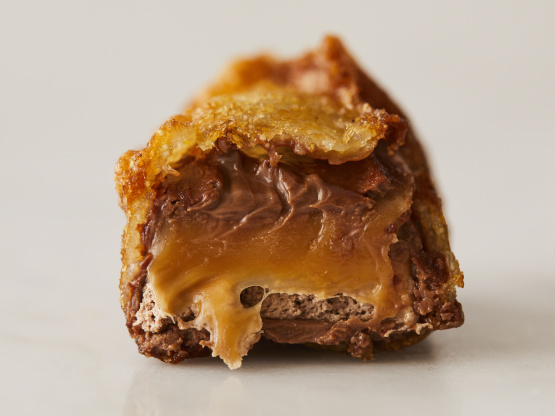 Invented in Scotland, this dish has now become famous worldwide. It is an excellent source of fat, sugar and calories. For a seasonal variation you could also try deep frying a Cadbury's Creme Egg.

I checked out the history of this recipe on Wikipedia and the original had coconut in the batter. I added 1/4 cup sweetened flaked coconut to the batter. For the batter I adjusted the recipe a bit and used 1/2 cup corn starch (for crispiness) 1/2 cup corn flour and 1/2 cup white flour. Added a healthy pinch of baking powder too. I deep fried 8 Mars bars and they came out crisp on the outside with a nice airy batter, served with a generous dollop of Baileys Irish Creme flavoured whipped cream. We all had taste bud orgasms. So of course we made more. Wow.

I like the skewer idea and will try that next time.
Chill the chocolate bar by keeping it in the fridge, but don't freeze it.
Mix the flours and bicarbonate of soda (baking soda) together.
Add milk (traditional) or beer (which gives a lighter result) until you get a batter with the consistency of thin cream.
Heat the oil until a small piece of bread will brown in a few seconds, but don't allow to smoke.
Remove wrapper from chilled chocolate bar.
Coat completely in batter.
Carefully lower into hot oil and fry until golden brown.
Serve, with ice cream or french fries, if you're so inclined.