twissis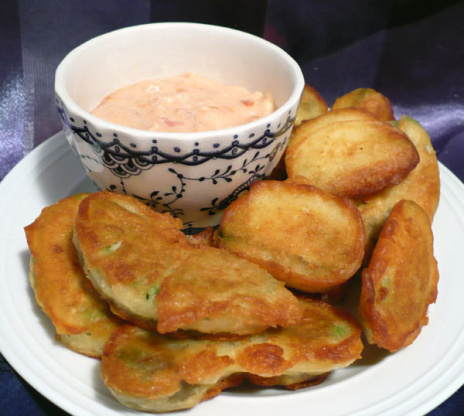 I love of all things avocado as a legacy of my Dallas dys & these mellow bites of avocado goodness were no exception. I used a sauce mix of sour cream + salsa & found them in need of salt, but know that is a pers pref. Perhaps my avocado was too ripe, but I also had diff keeping the wedges (cut lengthways) intact to dredge in flour & coat w/batter to fry. I sliced them crossways to get more bite-size wedges & that worked well for me. As w/all things crisp-fried, they are best served right away & eaten in a single sitting. The garlic-flavored batter makes them esp tasty & they would work very well to accompany any Tex-Mex salad or entree or as finger-food. Thx for sharing this recipe w/us.
Combine all batter ingredients.
Dust avocado wedges with flour.
Put wedges into batter mixture until coated.
Fry in deep fat fryer until lightly browned-about two minutes.
Serve with sour cream and salsa.