UmmTariq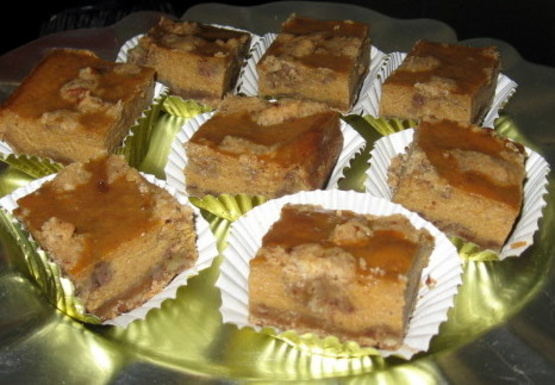 This a great variation on regular pumpkin pie. The addition of nuts in the crust is so tasty! You can cut it in large squares, but sometimes I cut it into smaller ones to bring to a potluck, or for a buffet. The first words out of tasters mouths are always "Oh, this is SO good!" (One hour for chilling is added to cook time.)

YUM! What a great way to make a pumpkin pie! It's actually more of a bar type dessert--and it is fabulous! I will be serving this at my sister's bridal shower this weekend. I followed the recipe to the letter, and doubled it. The crust is very good--I love the nuts in it! I will be making this many more times I'm sure. Thank you for a great recipe leeannr!
Heat oven to 350 degrees.
In a medium bowl, combine flour and sugars.
Cut in butter till crumbly.
Stir in nuts.
Put 1 cup crumb mixture aside; press remainder firmly on bottom and halfway up sides of 12 x 7 baking dish.
In large bowl, combine remaining ingredients (except reserved crumb mixture) and mix well.
Pour into pressed crust.
Top with reserved crumb mixture.
Bake 55 minutes or until golden.
Chill and serve.