AmyMCGS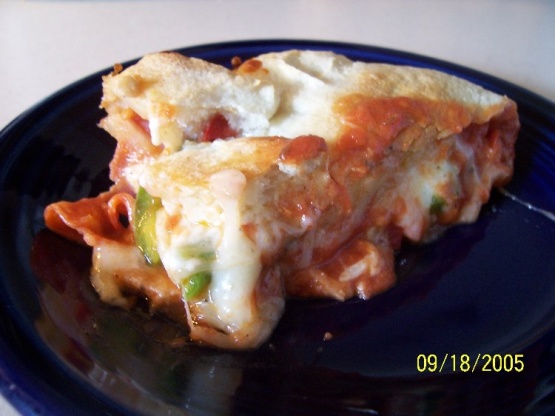 Pizza dough topped with cheese, sauce and pepperoni filling then bundled up and baked. Feel free to use veggies or other meats for filling. This easy to prepare, kid-friendly bundle makes a nice lunch or an easy weeknight dinner. As a main dish, this will feed 4 children or 2 adults. I serve this with a tossed salad on the side. This recipe is courtesy of Pillsbury.

9/18/05 Good & easy for lunch. I added more pizza toppings- peppers, onions, and mushrooms. I also made it in a square pan since I didn't have the right size round one. My only problem was that the top and outer edges were browned and the middle was a bit doughy- I might cover it in foil next time. ****** Reviewed again 10/6/05: The second time I made this, I put it on a cookie sheet, and braided the top. It came out delicious- the crust was evenly browned.****** Thanks for sharing the recipe!
1

(13 7/8 ounce) can prepared pizza crust

2

cups mozzarella cheese or 2 cups Italian cheese blend, shredded and divided
1⁄3 cup pizza sauce
italian seasoning, to taste

30

slices pepperoni

1

tablespoon parmesan cheese, grated
Preheat oven to 400 degrees.
Spray an 8 inch round cake pan with nonstick cooking spray.
Unroll the dough and place in the pan; there will be four corners of dough extending over the sides of the pan, pressing the dough lightly against the bottom and up sides of pan.
Over the dough, sprinkle 1 cup shredded cheese, spread sauce evenly over cheese, sprinkle with Italian seasonings, top with pepperoni slices ending with 1 cup shredded cheese.
Using kitchen scissors, cut off about 2 inches of dough from each corner; discard.
Bring all ends of dough upward and together at center, twisting to close at top of pizza.
Sprinkle with parmesan cheese and bake for 20-25 minutes or until a golden brown.