Deep Dish Leftover Turkey Pot Pie
Rita1652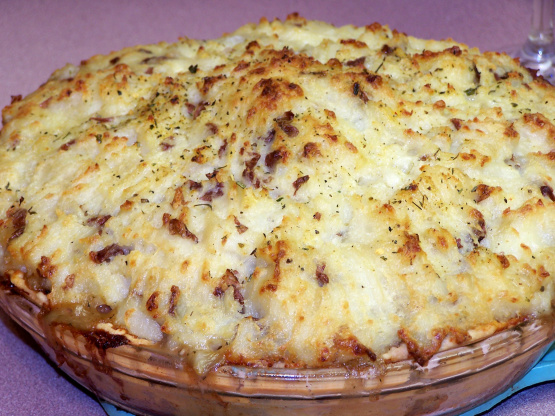 You thought you were stuffed on Thanksgiving? Take a look at this overstuffed turkey pot pie! It 's made in a prepared pie crust filled with Thanksgiving leftovers of turkey, mashed potatoes, and gravy for ease during the holiday season. I do add more fresh herbs to this even though all was well seasoned when first served, bringing a freshness to the pie.

BIG HIT!! I did this with fresh & homemade turkey, gravy and potatoes after thanksgiving! To save time, put all the veggies in the food processor rather than chopping. Overall the homemade gravy did the trick! Will definitely make again next yr!.
59.16

ml butter, separated

1

medium onion, finely chopped

2

medium celery ribs, finely sliced

2

medium carrots, finely sliced

141.74

g mushrooms, sliced

3

garlic cloves, minced

709.77

ml turkey meat, diced

236.59

ml frozen corn

236.59

ml frozen peas

473.18-709.77

ml turkey gravy

14.79

ml fresh parsley, chopped

14.79

ml fresh sage, finely chopped

946.36

ml mashed potatoes, room temperature

118.29

ml milk, warmed

1

pie crust
Preheat oven to 425 degrees.
Prepare a deep pie dish by placing a the pie crust into the dish.
Melt 3 tablespoons of butter in a large skillet and add onion, celery, carrots, mushrooms and garlic. Cook over low heat until softened, about 10 minutes. Stir in turkey, corn, peas and gravy (using enough to coat everything), to the sauteed mixture. Remove from the heat, stir in the fresh parsley and sage.
Place filling into pie dish.
Mix leftover mashed potatoes with milk to soften.
Spread the potatoes over the filling.
Dot with the remaining butter and sprinkle with seasoned salt or salt and pepper to taste.
Bake in the preheated oven for 15 minutes. Reduce oven temperature to 350 degrees F (175 degrees C), and continue baking for 20 - 30 minutes, or until potatoes are golden brown.