Deep-Dish Florentine Pizza
loof751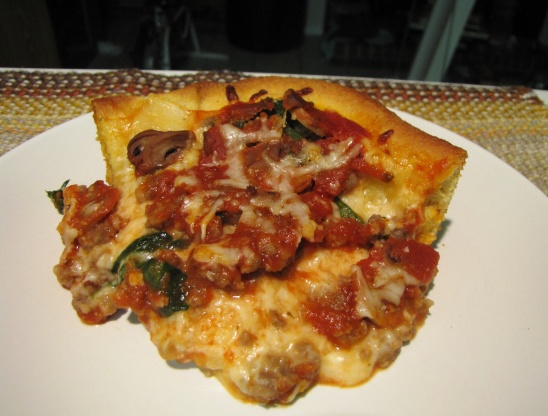 A great deep dish pizza that I have made for years. Leftovers are good reheated or cold. Kids might not like it because of the spinach & mushrooms. This is a not a quick recipe. It's not complicated but has many steps. It's worth the work. Once you have the basic recipe down, you can play with the ingredients. I often cut back on the salt in the dough & add garlic salt, basil & oregano. I also use the dough recipe for a hand tossed thinner crust pizza. I usually save this for a slow weekend. To speed things up I use pre-shredded cheese and bulk Italian sausage when I can find it. If you don't like whole wheat in your crust, just replace with white flour. The crust is pretty crunchy.

Wow this is a great pizza! I left out the onions and used fresh spinach, otherwise made as directed. This made a huge flavorful deep-dish pizza and it was really pretty easy to make. Next time I'll try it using my favorite combo, ham and pineapple! Thanks for sharing this great recipe! Made for Spring PAC 2009
For crust:
Grease a 14-inch deep dish pizza pan. (or 2 9-inch square baking pans).
Sprinkle with 4 teaspoons cornmeal.
Dissolve yeast in warm water & sugar in mixing bowl.
Add 1/2 cup cornmeal, oil, salt and 1/2 cup whole wheat flour and 1 cup white flour.
Mix well.
Stir in enough additional flour to make a soft dough.
Knead for about 5 minutes.
Shape to form ball; place in greased bowl, turning once to coat surface. Cover, let rise in warm place about 45 minutes until double.
Punch dough down.
Cover.
Let rest 10 minutes.
Roll out or stretch dough to fit pan and come up sides forming a 1 inch rim. Let rise from 5 minutes - 20 minutes depending on how you chewy you want the crust.
For topping:
While dough is rising, thaw spinach in microwave.
Squeeze moisture from spinach.
Remove meat from casing if necessary.
Brown in a 12-inch skillet with onion & garlic.
Drain the fat off.
Add spinach, cook about 10 minutes more.
Spread cheese evenly over crust.
Arrange meat mixture over cheese.
Top with mushrooms.
Combine pizza sauce & water.
Spread over toppings.
Bake at 450 degrees for about 15 - 18 minutes.
Sprinkle grated Parmesan cheese over pizza.
Bake an additional 5 - 10 minutes.
Let rest 5 - 10 minutes before cutting.