ReeLani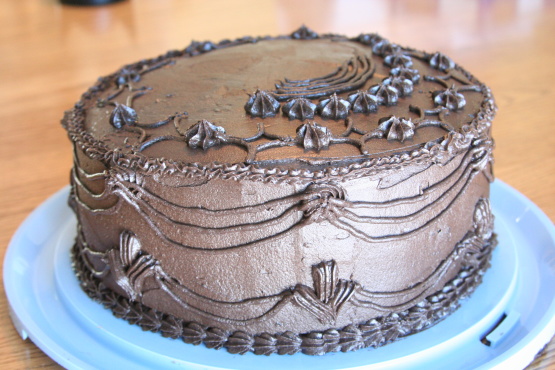 Here it is -- the best chocolate cake ever! Perfect for birthdays.

Top Review by Meryl
DELICIOUS!!! This is the same recipe I had found awhile ago on another website, except it had a different name, (Black Magic Cake). Regardless of what the recipe is called, it is excellent! Very moist, deep chocolatey, and fluffy. I used brewed expresso instead of strong coffee, and I used nonfat plain yogurt in place of buttermilk. I also used Dutch Processed Cocoa instead of natural Cocoa in both the cake and the icing, then I lightly frosted the cake with my fatfree icing made with brewed expresso, cocoa powder, and confectioner's sugar.
Preheat oven to 350°F.
Grease and flour one 13 x 9-inch baking pan.
If you want a layer cake, use two 9-inch pans.
In large bowl, stir together sugar, flour, cocoa, baking soda, baking powder and salt.
Add eggs, buttermilk, coffee (if making with instant, use 2 tsp to make 1 cup), oil and vanilla; beat on medium speed of electric mixer 2 minutes. Batter will be thin.
Pour into prepared pan.
Bake until cake tester inserted in centre comes out clean (30-35 minutes for round pans, 35-40 minutes for rectangular pans).
Cool 10 minutes; (if using 9-inch round cake pans, remove from pan) and cool on wire racks.
Cool completely, then frost with your favourite vanilla icing.