Deep Chocolate Vegan Cake
Chickee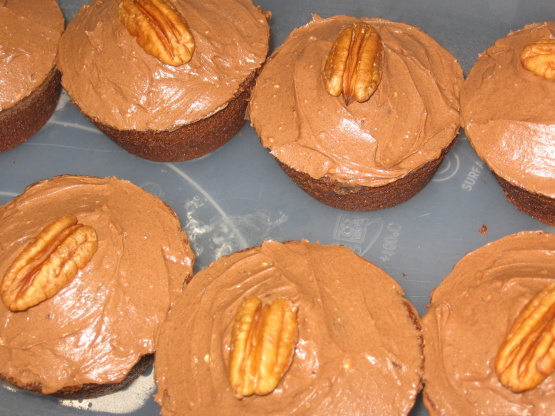 Delicious chocolate cake from one of the Moosewood cookbooks. If my kids like it, I know it's good!

good recipe. doubled baking soda and got a good rise. (i made cupcakes not a cake.) thought the flavor and texture were nice-- like non-vegan. but it wasn't as chocolately as i imagined it would be. (even with the switch of using basalmic instead of cider vinegar.) the flavor was more like red velvet than a standard chocolate cake.
Preheat oven to 375.
Oil an 8" square or round pan and dust with sifted cocoa.
Sift flour, cocoa, soda, salt and sugar.
In another bowl mix oil, water and vanilla.
Pour liquid into dry and mix till smooth.
Add vinegar and stir briefly.
Without wasting time, pour batter into pan and bake 25-30 minutes.
For frosting: melt chocolate in heavy pan on medium heat.
Beat together peanut butter, water& vanilla.
Beat in sugar then add melted chocolate.
Beat till smooth.
Spread on cooled cake.