Prep 15 mins
Cook 20 mins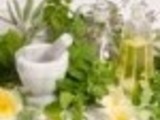 This is so easy to make ahead of time when you have company. Leave them on the counter uncovered. When ready to serve reheat in microwave 4 minute
Directions
In a glass baking dish place butter,Kitchen Bouquet,salt,paprika and thyme.
Microwave 1 minute;stir well.
Roll potatoes in mixture until well coated.
Cover with wax paper.
Cook 10 minutes; roll potatoes in butter.
Cook uncovered another 5- 10 minutes until potatoes are tender.
Most Helpful
Excellent taste, quick AND I had all of the ingredients in my cabinet except the kitchen bouquet, so I just did without that. My kids loved them too and asked for more. I'm marinading my Mahi Mahi in the sauce right now for tonight's dinner. Thank you Sage, I will be using this recipe over and over again on potatoes and more!
I enjoyed the ease of making this recipe. However, there is no way that I could have halved six medium potatoes and have them done in the time alotted. I cut them into quarters, and then cut them again into eighths. I didn't have Kitchen Bouquet...they don't sell it here, so I used Cavenders Greek Seasoning. To get them done in the microwave, I found that some of the potatoes got hard around the edges. I think they would have gotten done just as quickly roasting in the oven. I loved the flavor and the seasoning of the smoked paprika, thyme and butter though. We enjoyed these with grilled burgers tonight. Thanks for sharing! Made for ZWT5

This is a good way to make a potato side dish in a pinch. It's really quick and couldn't be easier. The flavor is very good. We prefer crispier potatoes, so next time I will put them under the broiler for the last 5 minutes. It will still be much faster than roasting potatoes. Thanks for such a neat idea.