Decorator Buttercream Icing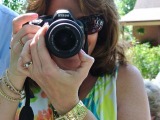 I always use this when I decorate cakes and I get many, many compliments on the wonderful taste. It is not that usual shortening-and-sugar-bakery-icing taste. If I am not using it to decorate a cake with, I use my all butter variation: Butter Cream Icing (Buttercream Frosting).
Directions
Cream butter and shortening then add vanilla.
Add sugar a cup at a time beating on medium speed.
Add milk 1 Tbls. at a time and beat on high until completely blended.
TIP: To cut the sweetness I usually sprinkle some salt in the vanilla (so it will dissolve) before proceeding with recipe as instructed.
Reviews
Most Helpful
I had to taste this multiple times to be sure , but this icing is perfect! Most decorator icing is just way too sweet. This is perfect. (I used butter flavored Crisco out of necessity)

This was great for piping. I am still not crazy about the flavor of shortening based frostings though, hence the 4 stars. Works great for decorating so will used again for that! I may decrease the amount of shortening next time to help with the flavor for me. Or may some butter flavored shortening would help. Hmmmmm that's a thought. :) I have been using the butter flavored shortening for awhile now. It will play with your colors but the flavor is good. Update: 2008 I noticed the icing seemed off for a while now. I was nosing through some cake sights and noticed a mention of Crisco changing the fat content. People were saying it really changed their icing recipes so they switched to the cheaper shortenings and it fixed the problem. Well I did the same and now only use shortenings that haven't removed the trans fats. I know it is bad for you but hey how often to do you eat cake right?

In an overly ambitious moment of hubris, I offered to make a cake serving 25 people for a baby shower, Mom is a superb baker and decorator and I have assisted her many times but this was my first time striking out on my own. I made a double batch of this one to cover a two layer 10 by 13 cake and had plenty to do a crumb layer, frost the cake and do a fair amount of adornment (the cake had a fruit filling but would have had enough icing for a fill layer.). The icing was a hit in terms of ease and flavor, It was just the right consistency for frosting and piping; soft enough for movement but firm enough to hold body and shape. Taste was also sensational creamy and smooth, buttery and silky. I used half clear vanilla and half bakery essence in mine. Not a thing I could say but thank you for sharing.