Decorator Buttercream Icing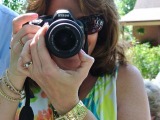 I always use this when I decorate cakes and I get many, many compliments on the wonderful taste. It is not that usual shortening-and-sugar-bakery-icing taste. If I am not using it to decorate a cake with, I use my all butter variation: Butter Cream Icing (Buttercream Frosting).
Directions
Cream butter and shortening then add vanilla.
Add sugar a cup at a time beating on medium speed.
Add milk 1 Tbls. at a time and beat on high until completely blended.
TIP: To cut the sweetness I usually sprinkle some salt in the vanilla (so it will dissolve) before proceeding with recipe as instructed.
Reviews
Most Helpful
I had to taste this multiple times to be sure , but this icing is perfect! Most decorator icing is just way too sweet. This is perfect. (I used butter flavored Crisco out of necessity)

This was good icing and simple to make. We found we did need to add in about double the amount of milk called for though. Thanks for the recipe
Excellent decorator icing! I used 1 1/2 tsp of almond extract in place of the vanilla for the cake I was working on and only 1 tsp of water (I needed a stiff icing for flowers to hold up) and this fit the bill! Very easy to work with and tastes great!! Thanks for posting!