Pamela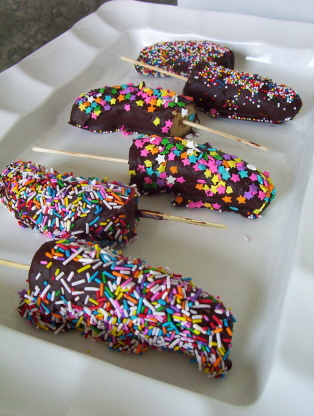 A real treat for the kids that looks like you went to a lot of fuss. You didn't. Adults like 'em too.

This is very nice treat, not to mention fun, for the kids. Only had two problems while making them. One was keeping a little 3 year old away from the jar of sprinkles (LOL) and the other was my bananas kept falling off in the glass. I think next time I'll chill the bananas to firm them up a bit prior to putting on the sticks. Oh...the directions say to cut banana lenghtwise. I think this should read 'crosswise' as in slicing. Thanks for a fun time recipe.
4

firm bananas (slightly underripe)

8

ounces semisweet baking chocolate
candy sprinkles, as needed
Place a sheet of wax paper on a cookie sheet and set aside.
Peel bananas; cut each one in half.
Push a popsicle stick into each banana half, in about two inches.
Either in a heavy saucepan over low heat, or in the microwave, melt chocolate.
Pour melted chocolate into a tall drinking glass; it should be about 2/3 full.
Holding popsicle stick, lower banana into the melted chocolate until it's completely covered.
Give it a gentle turn and slowly pull banana out, letting excess chocolate drip back into glass.
Immediately roll in desired topping: recommended are candy sprinkles of any colour, or crushed nuts.
Put coated bananas on wax-paper-lined sheet and stash in your freezer, uncovered, until the bananas are solid.
Place frozen bananas in an airtight freezer bag and keep stored in your freezer.
Serve frozen.