A quick and easy microwave dish that tastes like you spent hours whipping it up. This is my stepped up version with more flavor than the bland recipe on the box. Tapioca is my favorite comfort food, but hubby and I have an ongoing disagreement about whether it should be served chilled - I like it slightly warm, hubby likes it chilled. Unfortunately, it sometimes disappears before it's chilled enough for his liking...shh, don't tell him!
Directions
Mix sugar, tapioca, milk, egg and salt in large bowl. Let stand 5 minutes. (Use a bowl where your ingredients only come up half way so there's room to boil without boiling over.).
Cook at full power, stirring every 2-3 minutes until mixture comes to a full boil. Should take about 10 to 12 minutes.
Stir in vanilla and cool. Pudding thickens as it cools.
If desired, place plastic wrap on surface of pudding as it cools.
NOTE: you can make this on the stovetop if you prefer.
Reviews
Most Helpful
I'd never tried Tapioca pudding, but I know I like rice pudding, so I thought I would probably like this and I did! Tastes great, so creamy and sweet. My fiancé almost turned his nose up at it, but then he tried it and loved it too! Great, easy recipe!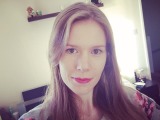 I LOVE tapioca and love it warm, cold, hot, room temperature, whatever. This is a particularly great recipe because I can have it ready in under 15 minutes (including cooking time!). It isn't very thick at the end of cooking, but thickens up nicely as it cools. I couldn't stay out of it and my 2 year old said "Mmmm!" with every bite. Thank you - so much better than the box!
You have made my dh a very happy man. He has pronounced it a 5 star recipe and has given me "permission" to make it often. You can't get much easier to make and with my uber picky man praising and scrapping the dish I'm pretty sure that anyone who enjoys tapioca will love this one. Thanks pup, this is something I think I'll be using a lot.