Karen..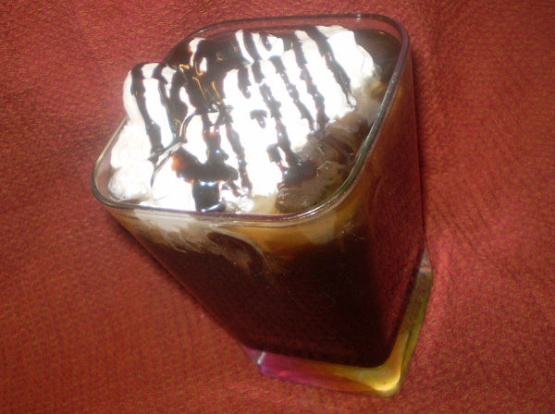 Make your own decadent - and very adult - fancy iced coffee drink. This one combines double-strength coffee, chocolate liqueur and whipped cream for a refreshing jolt of a summer drink. To make double-strength coffee, simply double the amount of coffee grounds you normally would use to make a pot. Once the coffee has brewed, remove it from the heat, let it cool, then refrigerate.

I thought this was a very good iced coffee, but the extra strong coffee was a little TOO strong for me. While I was drinking it, I couldn't help wondering what was different than a usual iced coffee (besides the added alcohol!). Then it dawned on me that I've never had coffee without milk or cream. I would make this again, but would add some milk to lighten it up and smooth out the extra strong coffee. Thanks!
1 1⁄4 cups chilled extra strong coffee
1 1⁄2 ounces chocolate liqueur

2

teaspoons sugar
whipped cream, for garnish
chocolate syrup, for garnish
Combine the coffee and chocolate liqueur in a tall glass.
Add the sugar and stir for a minute or so, or until it dissolves.
Sugar dissolves more slowly in chilled coffee than hot.
Top the glass with whipped cream, then drizzle chocolate sauce over it.