Decadent Chocolate Cake on a Bed of Raspberry Sauce
Rita1652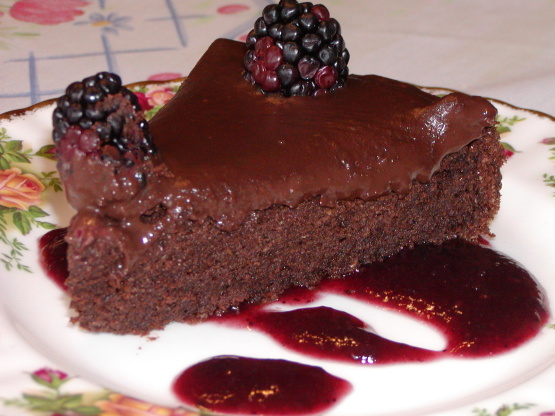 A Valentines special!!!! OHHHHHHHHHMMM!!!!!!!!!!!!!You can use any berries you like.

This is the third time I have made this cake. It is one of the most delicious cakes I have ever tried. No problems with it being dry. I even changed the chocolate ratio (ran out of brick chocolate and had to fill in with unsweetened cocoa powder and sugar) it still turned out wonderful!
Preheat the oven to 350 degrees.
Butter and flour a 10-inch round cake pan.
For the cake: Melt the chocolate and butter in a double boiler.
Set aside to cool.
Beat the egg yolks (equaling 1/3 cup)until light and fluffy.
Slowly add the sugar and continue beating until mixture is pale yellow.
Fold in the melted chocolate.
Sift the flour over the chocolate mixture until it just disappears.
In a separate bowl, whisk the egg whites (equaling 3/4 cup)until soft peaks form.
Gently fold egg whites into the chocolate mixture in 2 parts.
Pour the batter into the prepared pan and tap on the counter to remove air bubbles.
Bake for 20 to 25 minutes.
For the ganache: Place the chopped chocolate in a mixing bowl.
Place the cream in a saucepan and bring to a boil.
Add the hot cream to the chocolate and stir until all lumps are gone; then stir in Chambord.
Let the ganache stand until it reaches room temperature, then pour it over the cooled cake and spread with a spatula Raspberry Sauce: In blender puree rasperries and Chambord.
You can strain, but I like the seeds. You can use preserves: just melt in micro and add Chambord is what I did in these pictures because the berries were $5.00 a pint!
Pour Sauce on each plate and top with cake.
You can garnish with my Chocolate Grand marnier covered strawberries! Or any berries you desire.