Saturn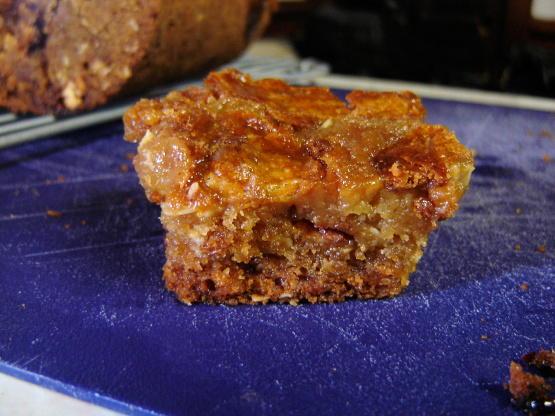 These showy brownies are nice and tall with pockets of caramel goo. They are wicked enough on their own, but for an over-the-top dessert, add a scoop of vanilla ice cream and drizzle with caramel sauce.

Yum! I've made this twice now. I cut the recipe in half both times and used an 8" x 8" pan. Baking time is almost the same - I think around an hour. The second time I used Milky Way bars instead of the Snickers, as I found the peanuts to be distracting from the caramel. How can you argue with a dessert that has candy bars in the recipe? Thank you!!!
Combine first 4 ingredients in a large bowl; stir well.
Combine flour, oats, baking powder, baking soda, and salt.
Add to butter mixture, stirring just until blended.
Fold in chopped candy bars.
Spoon batter into a greased aluminum foil-lined 13" x 9" pan coated with cooking spray, allowing foil to extend over ends of pan (Pan will be very full).
Spoon dollops of dulce de leche over batter; swirl slightly into batter with a knife.
Bake at 325° for 1 hour and 5 minutes.
Remove to a wire rack, and cool completely (This may take several hours).
Use foil to lift uncut brownies out of pan.
Peel foil away from sides of uncut brownies, and cut into bars.