ImPat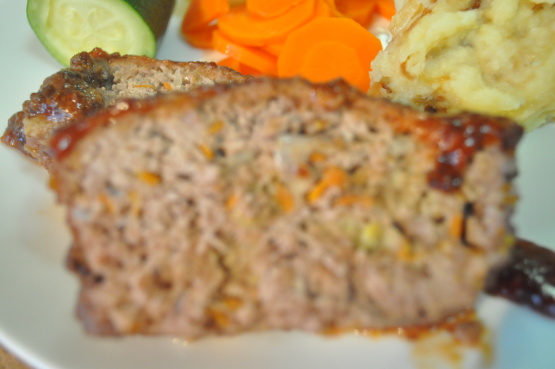 This is a family recipe - and so delicious!! A family member was having a time trying to find a recipe that her girls would eat, and she came up with this, and everyone enjoys it, and so do we!!

Top Review by ImPat
This was a lovely flavoured meatloaf and when I can get extra vegies into the DM it gets bonus points (I also added about 1/3 cup of grated zucchini) and scaled the recipe back to 4 serves with about 3/4 devoured by the 3 of us. I cooked at 155/160C fan forced oven but turned it down to 100C for the last 30 minutes and would consider doing 3/4 of an hour for the first step and 20 minutes for the second, I also poured off all the liquid after the first hour but am now wondering if I should have left it and there would have been more of a sauce with the topping. The only changes I made for dietary reasons was to add no salt and cut the sugar content by half and even then found the topping a little sweet so will cut it back a little further for us. Thank you Chef mariajane for a healthy meatloaf, made for Healthy Choice ABC Tag Game.
Mix first 9 ingredients together in order given. Bake in a large loaf pan at 350F for 1 hour.
Add topping.
Bake for another 1/2 hour.
TIP: I usually bake mine in a 9-inch square cake pan, easier to serve, and it doesn't take as long to cook. Serve directly from the pan.