Daytona Wings -- Baked Teriyaki Style Chicken Wings
Prep 15 mins
Cook 1 hr 30 mins

Growing up in a family of race fans, watching the Daytona 500 on TV was something we always looked forward to. Mom always made these wings to snack on during the race. Once upon a time these were called Wing Dings, but somewhere along the way they were renamed Daytona Wings.
Directions
Combine all ingredients except the wings in a large pitcher. Mix well.
Place chicken wings in single layer in a 9" x 13" pan.
Pour the liquid mixture over the wings.
Marinate at least 2 hours, flipping wings once. Keep wings refrigerated while marinating.
Bake at 350 degrees for 1 1/2 hours. Flip once during baking.
Most Helpful
my family loved it great recipe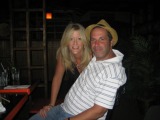 YUM! I used probably 5-6 garlic cloves (I'm a garlic fan) and only 1/3 cup of sherry because my stock was low. It still turned out fine without, though, and the meat was truly fall-off-the-bone tender. I served with green beens and Healthy Oven Baked fries and they were a hit! Even my picky youngest sister cleared her plate, and that's saying something.

Wings were fall off the bone tender and sauce was just perfect!