Dawn's Favorite Low-Fat Chili
Katzen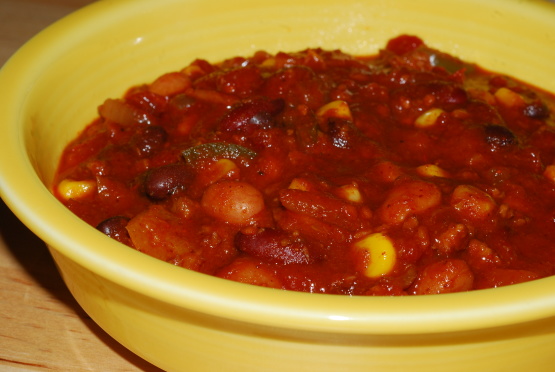 I make many types of chili, but my wife likes this version best. It is easy, virtually fat-free, and family-friendly. It makes a big pot but freezes well. I spice up my own bowl with hot sauce, jalapenos,fresh onion, whatever.

Top Review by Katzen
Absolutely delicious! I thought I had the market cornered on Vegetarian Chili, but I was wrong, SpicyDoc! Although our recipes are very similar, the addition of cocoa, oregano, cumin, and vinegar (who would have known?) would make such a difference!!! Of course, this spice freak added (and loved) the optional chipotle powder! I did also add two hot yellow banana peppers, and two jalepenos in with the other peppers, and a dash of salt at the end. Thanks so much for sharing this gem. Made for PAC Fall 2009.
1

large Spanish onion, chopped

1

green bell pepper, chopped

1

red bell pepper, chopped

1

yellow bell pepper, chopped

1

tablespoon olive oil

10

ounces veggie crumbles

28

ounces crushed tomatoes

28

ounces diced tomatoes, undrained

19

ounces red kidney beans, undrained

19

ounces romano beans, undrained

19

ounces black beans, undrained

12

ounces corn, drained

4

tablespoons chili powder

1

tablespoon cumin

1

tablespoon vinegar

2

teaspoons cocoa powder

1

teaspoon oregano

4

garlic cloves, chopped

1

tablespoon dried chipotle powder (optional)
Using a large pot, saute the chopped vegetables in the olive oil until soft.
Crumble in the fake meat and stir a bit.
Add all of the canned stuff and stir.
Add all of the seasonings and simmer for 30 minutes, adding a bit of water if you like it thinner.
Taste and tweak; if you like it spicier I recommend the chipotle powder. Hot sauce will do it too.