Dawn Hornsby's Unusual Green Bean Casserole
Bergy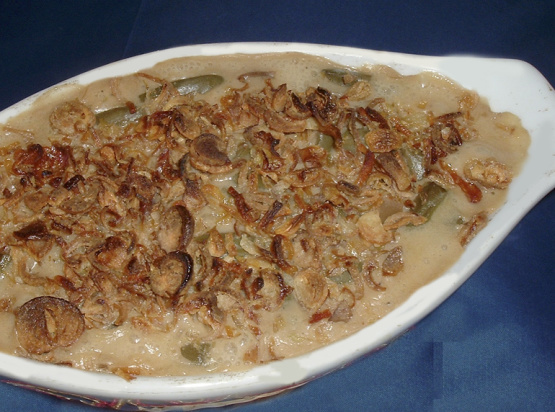 My mom used to make this all the time. She would experiment with all types of food and in turn, her creations were wonderful!! Though, I do not know if this is one of her original recipes but it was handwritten in her notebook of recipes that was given to me at the time of her death.

Top Review by Bergy
I had a gang for dinner and made this green bean dish and everyone loved it! Thanks — Jul 2, 2001, I have made this so many times it is souper easy and very tasty. This time I added pictures-I hope you like them Traci & Jeff
Combine water, beans and salt. Bring to a quick boil.
Reduce heat until it has thawed and slightly crisp. **About 4 minutes** Drain them.
In a 2 quart casserole dish, layer the beans and chestnuts.
Next, mix the milk and soup into a separate bowl. Add pepper.
Pour this over the beans and chestnuts. Bake at 350* for 25 minutes.
Remove from oven and top with the onion rings and bake again until they are a golden brown.