Davey's Broiled Yellowfin Tuna and Relish
Rita1652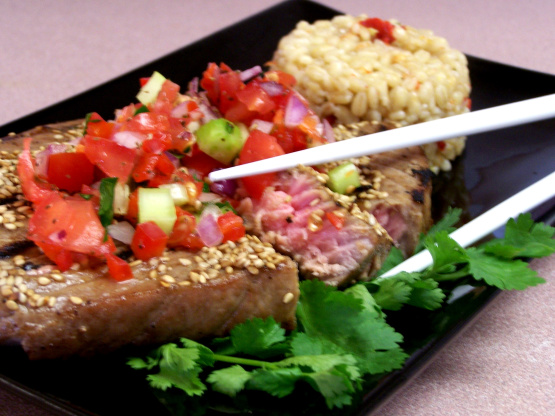 This is a concotion made up by my husband. It's quite tasty and worth the effort. I'm sure the marinade would be good with any type of tuna, we just happened to have yellow fin on hand. Preparation time does not include marinating, and is only an estimate...how fast can one dice?! Broil time is APPROXIMATE, depending on thickness of tuna - you may need to scale it back to 3-4 minutes per side, use your judgement! BTW, the relish does make a lot, I usually make it as stated, just to have some extra to use the next day on something else, you may want to halve it though, depending on your needs!

Lots of flavor. I marinated for 1 hour. Grilled the steak 3 minutes pre side. They were 8 ounces each. I found the mariade and relish to be more then enough so you can cut back to make half of what is called for! I skipped the cinnamon and because DH just doesn`t like it in more then desserts,the cilantro I just added to mine just love it, skipped the vinegar and use the juice of one lime which was plenty. But I did use the 1/2 teaspoon five spice in the marinade and he didn`t complain. This is a quick, easy, healthy, tasty meal! Thanks to Davey!
Mix all the ingredients for the marinade in a plastic bag.
Marinate tuna steaks for at least 4 hours in the fridge.
While tuna is marinating, mix all ingredients up for the relish and refrigerate for at least 2 hours. Toss again before serving.
Generously pepper both sides of tuna steaks.
Pre-heat broiler and broil steaks for 5-6 minutes per side, use your judgment, you do not want to overcook - broilers vary!
Dredge cooked steaks in toasted sesame seeds and top with relish.
Enjoy.