Dave's Newly Famous Pickapeppa Crock Pot Roast
CandyTX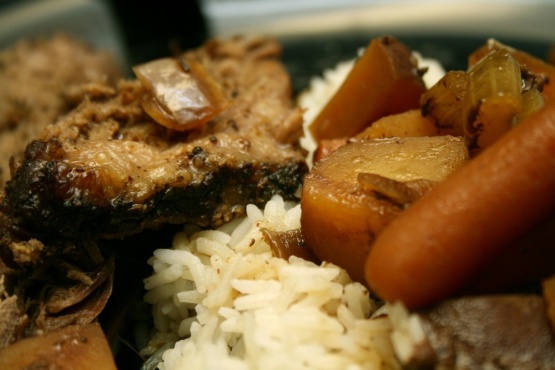 This was my 1st attempt at THIS roast and fell in love with it! Some guy at the grocery store gave me the tip for PickaPeppa sauce that I'd never used and it was AWESOME!
Delicious! I have used Pickapeppa sauce in other dishes, but never thought to use it with a roast...it works very well. I love anything that I can put into a crockpot and forget about until its done and this roast is one of those dishes. I used baby carrots instead of regular carrots and 2 TBSP. chopped, fresh sage instead of dry. I cooked this for about 10 hours in a 6-quart crock pot. After the cooking time was finished, I strained the cooking liquid into a saucepan and heated it on the stove. I added some Minor's beef base, salt, and pepper. I thickened it with flour to make a very flavorful gravy with a bit of a "zing" from the Pickapeppa sauce. My family loved this and gave it 2-thumbs up. Thank you for sharing. *Made for Cookbook Tag*
Heat crock pot to Warm (10-12 hrs) Low (7-8 hrs).
Cut up red onion, carrots, celery and potatoes and put all of it EXCEPT 1/2 THE ONION in bottom of crock pot with 1/4 cup water.
Place roast on top of veggies.
Crush and press garlic over roast.
Put other 1/2 of onion atop the roast.
Chop cilantro and surround atop/around roast.
Sprinkle sage atop roast.
Gently disperse entire 5oz PickaPeppa sauce all over roast and around edge of veggies.
Cook according to time allotted above.
Salt and pepper to taste.