Nimz1466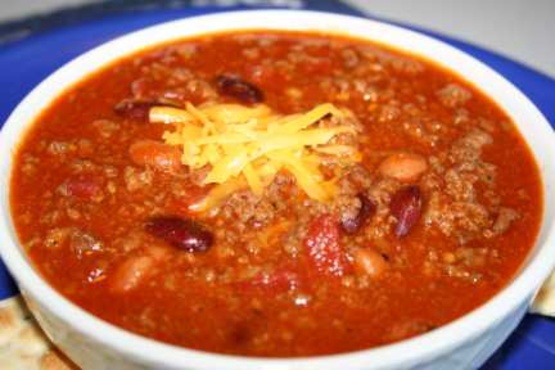 We love to make chili together, and we usually play around with it all day, adding this and that, and it is never the same, but today's batch was exceptional so I thought I would put it here for future reference. The original recipe is supposedly from Conway Twitty that my husband obtained from an anesthesiologist he was working with at the time. Conway supposedly won a Texas chili cook-off with it. But this is our version of his great recipe that has evolved over the years. It's a little hot/spicy, but you can adjust the amount of seasonings if you want it milder. Feel free to play around with it. Hope you enjoy. Someday I'll post the original of Conway's chili recipe. NOTE: I have updated this recipe with a few changes including not draining the beans and using only 1 can of Rotel. And in the directions to add extra water as needed. I like the added flavor of not draining the beans. :)

The only thing I did different was halve this. OUTSTADING soup that we enjoyed for lunch. Wouldn't change again . Great flavors, taste, and simple to prepare and make. Might add extra chili powder next time, personnal preference. Made for PRMR tag.
Heat olive oil in a large pot.
Add the hamburger meat (or double ground brisket if using) and brown; drain off excess fat).
Add the minced garlic, 8 cups of water and the dried chili pods and bring to a boil.
Reduce heat and simmer for an hour.
Remove the chili pods and any stems that may have fallen off the pods.
Add the bay leaves through the Mexican Chili Powder and stir.
To thicken the chili, mix the flour and cornmeal with 1/4 cup of water until smooth, then add to the chili and stir well.
Add the Beans and Tomatoes.
Mix well and bring to a boil.
Reduce heat and simmer for 1 1/2-2 1/2 hours. The longer it cooks the better it gets. Add a little water as it cooks down. :).
NOTE: If it gets too thick, just add a little water. We serve this with cheddar cheese or chopped onions on top and crackers or cornbread.