Dates Stuffed with Cream Cheese and Pecans
Derf2440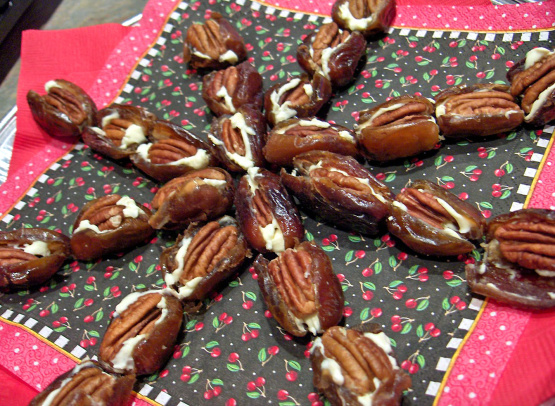 This is a recipe that my mother makes as a quick appetizer for special occasions. It may seem like an odd combination of flavors at first, but trust me, these can be addictive!

A very nice addition to fancy up a cookie tin or plate!! I have made these most Holiday seasons but never with the cream cheese, what a great addition!! and they are delicious!! Thanks for the cream cheese idea, will probably never make them any other way now. Dec16/06 Made for an office appie luncheon. placed them on the platter in a wheel and filled in the spokes with pinwheel sammies. Got lots of compliments on the setting on the platter. and how delicious they tasted!! Thanks!!
"Butterfly"the dates, making sure that they are still attached along one side Spread the dates open and fill with a generous amount of cream cheese.
Place a pecan over the filling.
Close the date, shaping it back into its original shape.
Eat and enjoy!