loof751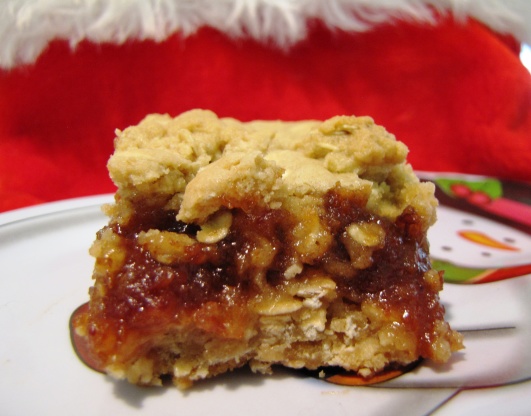 This was printed by The Montreal Gazette. Every Wednesday they printed recipes and recipe ideas, and many of them come from cookbooks or chefs. This one comes from chef Michele Fireman. I've tried this several times, and it's always a hit in the house.

I also followed the recipe exactly and had the same dry results for the topping and the bottom, it did not seem to be moist enough when mixed but I went ahead and used it anyway, the results were disappointing as the bottom and the top did not hold together at all. Don,t know what I could have done to rectify this except to have added more butter I guess. Checking other recipies I notice most of them require more butter for the dry mixture. Tastes good but be careful with the dry mixture, if it looks or feels too dry it probably is. Hope this helps without being too critical.
For the date filling: Combine the dates, water, sugar, cornstarch and lemon juice in a medium saucepan, stirring often, until thick and smooth, about ten minutes.
Preheat the oven to 350°F.
In a mixing bowl cream butter, then cream in sugar.
In another bowl, sift together the flour, baking soda and salt.
Blend flour mixture into the butter mixture, then blend in the rolled outs.
Grease a square Pyrex baking dish 8x8 inches/2L (I use a square baking pan of the same size).
Put half the rolled oats mixture evenly over the bottom. Spread the cooled dates over the base. Then add the remaining rolled oats mixture over the dates.
Bake in the oven for 30 minutes or until nice and brown.
Cool in pan. Cut into squares or bars.
It can be frozen, but in my house it's usually gone within the next few days.