Date Raisin Squares - Microwave
Derf2440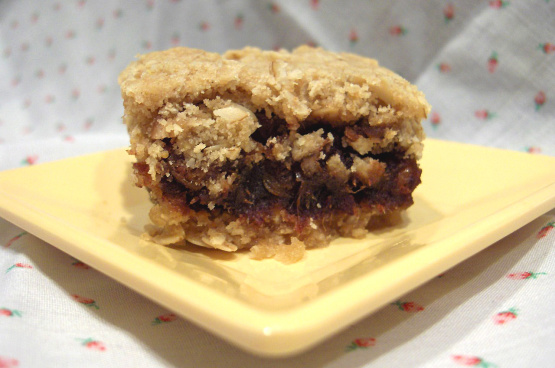 As good as any baked in the oven and quicker.

I love date squares and these did not disappoint. I really did not know what to expect as previous attempts to "bake in the microwave" never worked. I made a couple of changes to the filling based on the recipe I make in the oven. I increased the dates to 2 cups, included the zest of the lemon and I included the rest of the lemon juice with the water and still included the raisins. I would increase the measuring cup size if you want to make these changes as it boiled over. I couldn't wait until they cooled to try them and they were great. The crust wasn't soggy as I expected, but not like they would be had you baked them in the oven. Over all they are a success and I will continue to make them in the dog days of summer. Thank you Derf for posting such a great recipe.
Filling-------.
Combine dates, water, raisins and lemon juice in 4 cup measure.
Cover with vented plastic wrap and microwave at high 4-6 minutes or until boiling.
Stir every 2 minutes.
Dates should be soft.
Let stand, covered, 5 minutes.
Uncover and cool to lukewarm, stirring occasionally.
Crumbles------.
Combine first 5 dry ingredients in mixing bowl.
Cut in butter until mixture is crumbly.
Press half firmly into 8 inch square microwave baking dish.
Spread with date filling.
Sprinkle with remaining crumble mixture, patting down lightly.
Microwave at medium high for 9 minutes, rotating every 3 minutes, (not necessary if you have a rotating plate) remove from microwave and cover with aluminum foil.
Let stand covered directly on counter for 10 minutes.
Uncover and cool completely on wire rack.
Cut into small squares.