Kid-Kat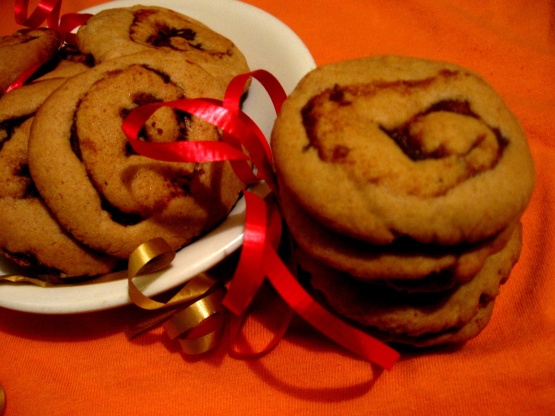 A family recipe as far as I know, and my father's very favorite cookie by far. They freeze well and actually keep quite a long time in an airtight container at room temp - if they don't all disappear first. ;o) A bit of work, but differently delicious and makes a LOT! Prep time does not include chilling dough.

Top Review by Manda
Hey Winkki! My Grandma used to make these cookies EVERY Christmas! She hasn't been baking much recently due to her health, and I totally forgot about these cookies! In my cookbook it goes!!! I can't wait to make these this year and surprise her! Thanks so much for posting! HIGHLY recommended ~Manda
For Filling: Cook together dates, sugar, water for 10 min or until thick.
When cool, add nuts.
For Dough: Cream shortening and brown sugar.
Add eggs; mix well.
Sift dry ingredients together& combine with egg mixture; mix well.
Divide dough into 4 parts; roll each 1/4" thick.
Spread each with 1/4 of filling, roll up like a jelly roll.
Cover the four'logs' and chill several hours.
Slice 1/4" thick for each pinwheel.
Bake 8-10 min.
at 375.