Chilicat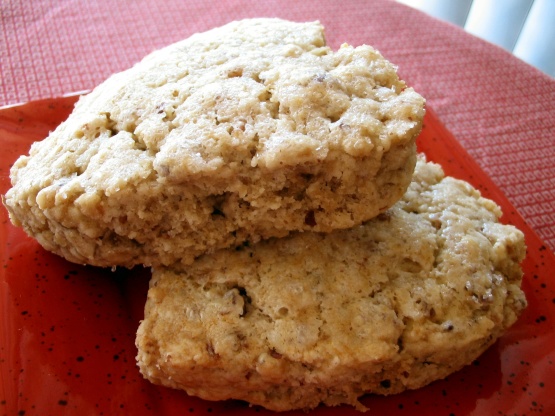 Not low fat but somehow you just don't care when eating one.

WOW!!! These are wickedly delicious! I am used to a more "rustic" type of scone and usually bake with more healthy ingredients in mind; but everyone deserves a special treat now and again and this sure is one!!! I picked this as my 1st recipe choice for the Zarr World Tour 3 as a celebration of my "trip". I adore dates and pecans and finding them in one of my favorite things to make was a fantastic plus. I do not have cake flour in my pantry so I used recipe#87689 to make a sub. I also replaced the table cream with half & half (I figured it was close enough). This makes a lovely scone, melt in your mouth dreamy goodness - I loved them!! *** I did get 27 HUGE (I mean HUGE) scones from the suggested amounts...so something might be off a bit there in the nutrition facts (???) or maybe I'm whats off (???) No worries...this is a fabulous recipe... I hope to pull it out for many special times to come - Thank You Annacia!!!
Preheat oven to 350ºF (180ºC). Line a 12 x 18" (30 x 45 cm) baking sheet with parchment paper.
Place the butter, both flours, sugar, salt, baking powder and baking soda into the bowl of a food processor (or use a pastry blender). Process until the mixture is very fine. Transfer to a large bowl and add the pecans and dates. Pour the cream and vanilla over the top. Mix with a fork until a crumbly dough forms.
Turn onto a work surface. Press the mixture together very lightly - it should be fairly dry. Cut into twelve 2 1/2" rounds (7 cm) or eighteen 1 1/2" rounds (4 cm). Place on the prepared pan. Brush with cream and sprinkle with sugar.
Bake for 20 to 25 minutes until golden. Serve warm. Best served the day they are made.