MA HIKER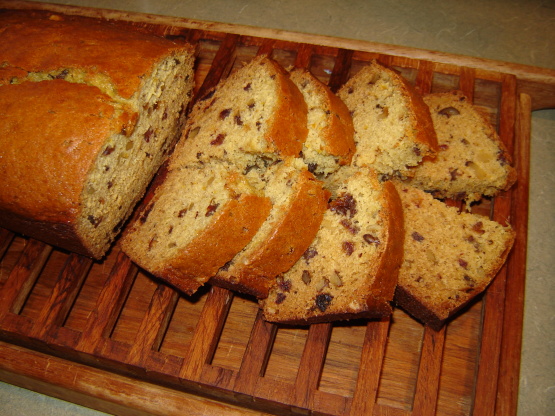 This date bread is enhanced by the addition of fresh orange juice and rind. The recipe was given to me by a co-worker 30 years ago who has since passed on; I cherish the original recipe in her own handwriting. It's time to share it.

Very yummy! I love old fashioned date nut bread and also was touched by the story behind this recipe. This recipe is definitely the classic. I used a standard size stone loaf pan (pampered chef) and found I should shorten the cooking time (dough was pretty liquidy) since it was a bit brown on the edges. But it was quite tasty. I also used egg substitute (always do) with wonderful results! Reviewed for PAC spring 2007
Place chopped dates and orange rind in small bowl.
Cover with boiling water and orange juice.
Let rest while preparing the following:.
Sift flour, baking powder, salt and baking soda in bowl and whisk to mix evenly.
In the mixer bowl cream butter and sugar til creamy.
Add egg and mix well.
Add flour mixture and date mixture and blend for 2 minutes.
Fold in nuts.
Grease and flour a bread pan.
Bake at 350 for 50-60 minutes. Let stand about 10 minutes before turning out.