Chilicat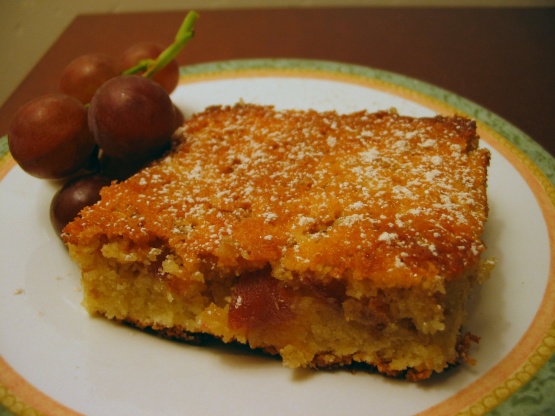 Posted for the Zaar World Tour 2006-Algeria. From the "Best of International Cooking" cookbook. I have not had the opportunity to try this recipe yet. UPDATE--I am posting this suggestion from a reviewer for making the preparation much easier: pulse the almonds and sugar in a food processor, then pulse in the cornstarch and whole pitted dates. The dates chop up perfectly and the ground almonds/sugar/corn starch keeps the date pieces from sticking to each other.

This was good with tea. It's more like a light bar not a cake. I replaced the cornstarch with tapioca starch as it works the same way and we are corn free. I used Al Noor Tunisian dates, salted butter and orange juice being alcohol free I also used a non alcohol vanilla. By mistake I added a bit over the amount of granulated sugar which I should have probably cut down anyway. I would make this again.
1

cup blanched almond

1

cup granulated sugar

4

eggs, separated
1⁄2 teaspoon vanilla

3

tablespoons cornstarch
1 1⁄2 cups finely chopped dates (7 oz)

3

tablespoons butter, melted

1

tablespoon orange juice or 1 tablespoon orange-flavored liqueur
Butter a round 10-inch cake pan; line with waxed paper. Butter waxed paper; set pan aside. Preheat oven to 400ºF.
In a blender, process almonds with 3/4 cup sugar until finely ground.
In a large bowl, beat egg yolks with remaining 1/4 cup sugar and vanilla. Stir in almond mixture, cornstarch, dates, butter and orange juice or liqueur.
In a medium bowl, beat egg whites until stiff; fold into date mixture. Pour batter into prepared pan. Bake in center of oven 30 to 40 minutes or until center springs back when lightly pressed with your fingers. Invert onto a rack; remove from pan. Cool on rack.