Date Bars from my Childhood
missmaz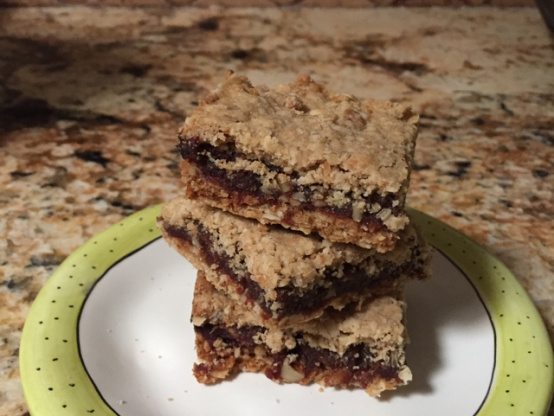 I call them that because as far back as I can remember, my Grandmother made these on special occasions, or just because. And my mother always made them, too. They are just so good and really "datey" , just the way I like them.

This recipe was excellent. It has been years since I had a date bar cookie this good. It was very easy to make. I only had and 8oz. package of chopped dates so I added a can of date fillingrnI had to the cooked date mixture. It still comes out great. You do have to wait to cut and eat these cookie bars after they have completely cooled. They were wonderful! Thank you so much for the recipe. This is a keeper. Agb342
Make the filling: Boil dates, sugar, and water until thick, about 5-10 minutes.
Add 1 TBSP butter, the vanilla, and the walnuts.
Set aside to cool a bit.
Prepare the crust: Combine all dry ingredients with the melted butter.
Press half of the mixture into a lightly greased 13 x 9 pan.
Cover with filling mixture and top with remaining half of crust mixture.
Press lightly.
Bake at 350 degrees for 25 minutes.
NO LONGER THAN THAT!
Cut into squares when cool.