DZ_USA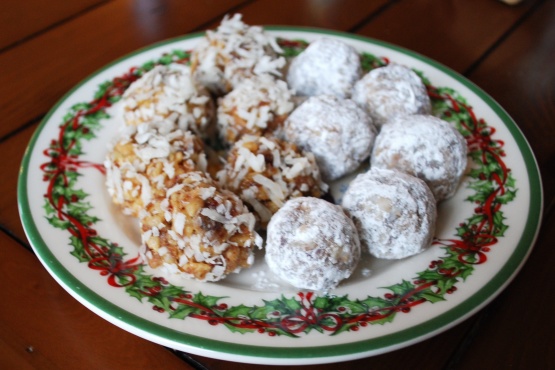 Alternative version of my recipe for Algerian Date Balls that calls for anise in the recipe. My husband and I don't care for the anise, so I tweeked the recipe and used the rice crispy cereal version. my husband loves them. You may also decide to roll into flaked coconut tinted with food coloring for a festive look instead of the powdered sugar. :) Prep time includes cooling time.

Unfortunately, I had some real issues with this recipe - the directions need some additional information added for this to work. The date mixture was "thick" pretty much immediately, so how "thick" is thickened? What heat setting should the mixture be cooked at? Since you are basically making candy or caramel, to what temperature should the mix be cooked? I believe that mine was way overcooked and I didn't even make it to 10 minutes cook time. Once it started to cool, it hardened up and it became very difficult to stir anything in. I ended up with about 30 barely holding together (very hard) balls, and about 1 1/4 cup of date/pecan streusel, which I'm sure will be excellent on ice cream so won't go to waste, but it wasn't really what I was aiming for by making this recipe. I did use butter instead of margarine (which I believe would not have contributed to my issues) and roasted, salted pecans. The taste of the mixture is good, so I hope with some clearer instructions, this could be a successful recipe.
Melt butter and sugar in a saucepan over low heat.
Add dates and cook 3 minutes and remove from heat.
Stir in cereal, vanilla, and pecans.
When cool enough to handle, shape into small balls about 1" in diameter.
Roll into confectioners' sugar (or flaked coconut -- see notes in recipe description).
Place cookies on cookie sheet lined with waxed paper until set.
Store in airtight container.