PaulaG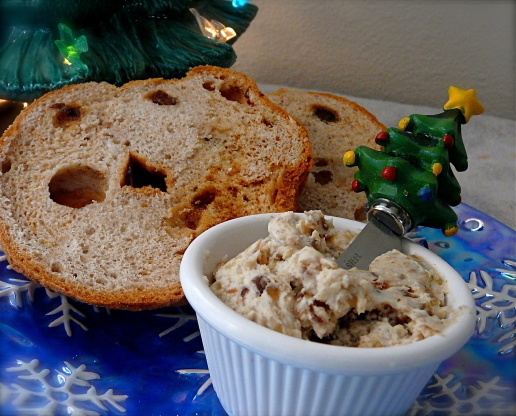 The holiday season is upon us. Time to make those homemade gifts of quick breads, muffins and bagels. What better than to include a container of your specially made spread to a bread basket. This is super quick and can be ready in 5 minutes.

This spread is nice and chunky with great nut and date flavours. The spices complemented each other and the remaining ingredients nicely, but were a bit strong for our taste. A tad less ginger would have been perfect for us. Since there are so many dates in here, we skipped the sugar. THANK YOU SO MUCH for sharing this lovely recipe with us, Paula!
Made and reviewed for the Aussie/NZ Recipe Swap November 2011.
In a small bowl beat together the neufchatel cheese, powdered sugar and spices.
In a food processor finely chop the walnuts. Add chopped nuts to cream cheese mixture then finely chop the dates. Add in dates and stir with a rubber spatula until blended.
Place mixture into a custard cup, cover and refrigerator until chilled. Serve with bagels and quick breads for a delicious treat.