Date and Ginger Oat Cookies
truebrit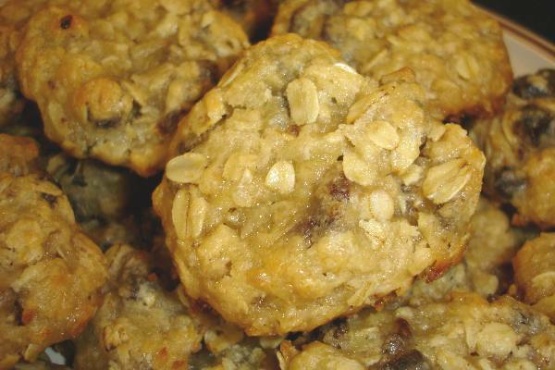 Popular cookie that is adaptable to different tastes, have used diced apricots instead of dates, and have also made this into bars, pressing the lot into a tray and cutting into bars when almost cold.

Addictive!! I loved the chewy texture of the dates and the coconut really made these a winner. I kept to your recipe exactly. I thought at first that they would be too dry because they were still rather crumbly when I was shaping them, but they were just right. Thanks for posting these, I'm off to make another batch!
Sift flour into bowl, stir in oats,coconut, sugar, dates and ginger.
Combine butter, golden syrup and water in pan, stir over low heat until butter is melted.
Stir butter mixture into flour mixture.
Roll into balls (1 tablespoon), place on prepared cookie trays, flattening slightly, allow room for spreading between each cookie.
Bake in moderately hot oven for about 12 minutes or until lightly browned, cool on trays.