Darn Good Chocolate Cake ( Cake Mix Cake)
Aunt Paula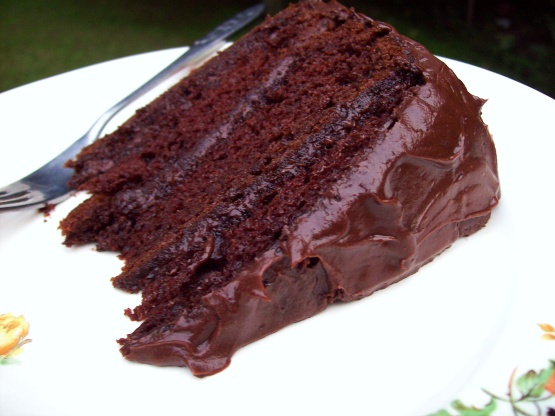 This recipe is adapted from "The Chocolate Cake Mix Doctor" by Anne Byrn. It was originally a bundt cake with chocolate chips, but I prefer the look of layer cakes (so much more homey looking) so I switched the cake pan size AND I left out the chocolate chips (because there's nothing worse than ruining the velvety texture of a layer cake than by adding hard chocolate chips to it). This is a dense, moist layer cake. I cut each layer in half so I get 4 layers and slather them with "perfect chocolate frosting" (" Perfect" Chocolate Frosting). The end result is a fudgy chocolate layer cake with tons of frosting (and yes, it is going to be sweet). It is KEY to cut the layers in half. It ends up being a much moister cake this way because the frosting kind of melts into the cake layers forming a kind of fudgy filling in between the thin cake layers. I hope you enjoy it :)

Terrific cake Taylor! Moist and dense like you said. I made this for a cake decorating class, but I cannot wait to try it in a layer cake. I really liked how it cut so cleanly, no crumbs! Looks and tastes like it came from a bakery. I agree with you about not adding the chocolate chips. I will definately be using this recipe often. Thanks for sharing! Update: I was so impressed with the texture of this cake (I'm into cake decorating) that I have used this formula with other flavors of cake. I made this with a cherry chip cake mix using cheesecake flavored pudding mix, it was awesome. It cuts perfectly and the layers are sturdy enough to divide into more layers, and stay together well while handling for stacking. I'm loving this recipe!
Preheat oven to 350°F.
Grease 2 9-inch round cake pans.
Dust with flour and tap out the excess; set pans aside.
Place the cake mix, pudding mix, sour cream, water, oil, and eggs in a large mixing bowl.
Blend with an electric mixer on low speed for 1 minute.
Stop and scrape down the sides of the bowl.
On medium low speed, continue to blend for 2-3 minutes more.
The batter will be very thick and should look well combined.
Pour batter into prepared pans and smooth it out.
Bake for 27-32 minutes (since I switched pans, I started checking the cakes at 25 minutes-- it was like gooey chocolate pudding-- then 3 minutes later it was perfect.
Another couple of minutes and I think it would have been dry, so keep an eye on your cakes.
Allow to cool in the pans on a wire rack for 20 minutes.
Now is the time to start preparing your frosting.
Run a knife along the edges on the cakes pans and carefully remove cake by inverting it; allow to cool for 20 minutes more on the wire rack right side up.
When the cake layers are completely cool, cut layers in half (save a domed layer for the top-- it makes your cakes look homemade) and frost.