Dark Pecan Pie - Virginian Hostess Style
Boomette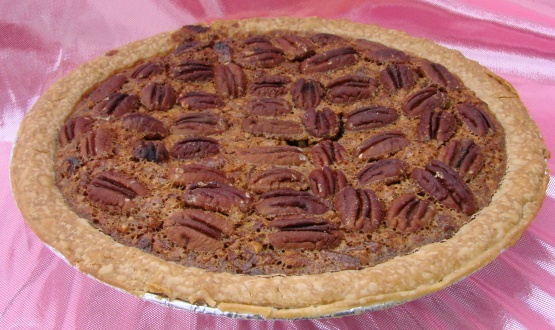 This is a very fine dark pecan pie, its chess pie custard looks similar to commercial pies. This was adapted from a recipe in The TOH Cookbook, but any good Virginian must improve the appearance of her pie by placing perfect pecan halves in a decorative pattern on top of the chopped pecan filling. The pie took me 60 minutes in total baking time.

This recipe was so easy and quick, The only difference is that they suggest a deep dish pie pan (the filling amount is actually for a deep dish pan) and increasing the baking time to 55 to 60 minutes and cooling for 2 hours before cutting. Otherwise, it is an exact replica. Dark and light corn syrups are interchangeable....the recipe is the same on both bottles, just be sure to watch it in the oven so the top doesn't over brown! Cover with foil if it starts to.*Tip: Cover edge of pie crust with aluminun foil for first 25 minutes of bake time, then remove for remaining 20 minutes, to prevent the crust from burning. Thank You! The 2nd. one I used a Gramn Cracker or a Pecan crust. I Will be making this recipe again. You got me Inspired to do a new recipe. I think I may do a Pecan Pumpkin Pie to play with for the Holiday. PRMR 2013 Happy Cooking to y'all!..Thank You!..Grpa Glad you posted the recipe.
Sort through pecan halves and fill 1/2 cup with perfect pecan halves, and reserve until ready to put pie in oven.
Preheat oven to 350 degrees Fahrenheit.
Chop 1 cup of pecan halves or pecan pieces in food processor on pulse setting, and set aside.
In a medium bowl, lightly beat eggs.
Stir in the corn syrup, sugar, butter, vanilla and salt.
Add the chopped pecans to the chess pie mixture and mix well.
Pour chess pie mixture into unbaked pie shell.
Top filling with perfect pecan halves.
Cover pie edges loosely with foil.
Bake at 350 degrees Fahrenheit for 20 minutes.
Remove foil. Bake 20 minutes or longer or until a knife inserted near the center comes out clean. (That took me an additional 10 minutes.).
Cool on a wire rack.
Store in the refrigerator.