Dark Creepy Gory Chocolate Cake
Rita1652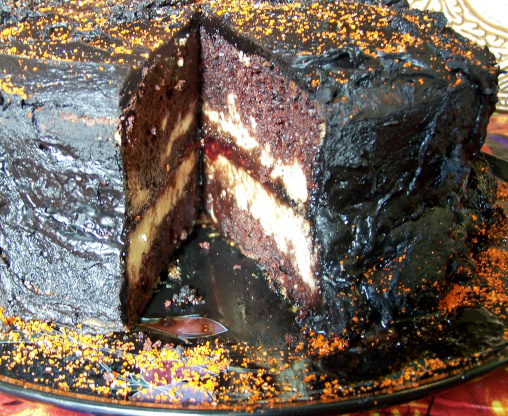 This Gory Devils Food Cake is filled with a Ghostly cream cheese filling and a Bloody Vampire raspberry filling with a Creepy hint of something Oh So So So Dark and Secretive Frosting............... The assembly to this cake is what makes it so eerie so do take note! If you don't want the errieness please do cool cake completely so the frosting and raspberry preserves does not goo out the sides.

I was SO into the idea of this cake, and was really excited at how it might turn out! I really liked the combination of flavors... the raspberry and chocolate with the cheese was great. My only qualm is the consistency I got with the cheese mixture... it was thick and curdy. Just my personal opinion, but I would make it as more of a cheesecake texture... it seemed like it belonged in lasagna, not a cake!
Pre heat oven to 350 degrees.
Grease and flour 2 9 inch pans.
Make your choice of devil`s food cake as directed.
Pour evenly into pans.
Mix Ghostly Cheese Filling ingredients together and pour over cake mix. Be sure to not mix in it will sink as it bakes.
Bake for 1 hour.
Creepy Dark Frosting:.
Meanwhile in a food processor with metal blade sift sugar, cocoa, salt & Cayenne by pulsing ingredients.
Add remaining Creepy Dark Frosting ingredients and pulse till smooth.
Cool cake for 5 minutes in pans then carefully invert to rack or dish pour optional rum evenly over both layers of cake then set aside to cool 10 minutes.
Key to assembling is to have to cake somewhat warm so the frosting creeps --
Place one layer on cake dish.
Pipe a ring of frosting around edge on cake and place raspberry filling inside.
Place second layer of cake on top.
Spread frosting on sides and top of cake.
Key:
If cake is warm it will ooze, chill as soon as you are done frosting. Touch up the frosting if you need too and decorate as Creepy as you want!