Dark Chocolate Mint Gelato
Boomette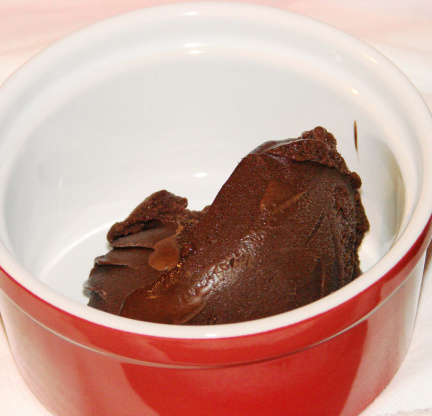 This does not include time to chill mixture or freezing, according to your ice cream maker's instructions.
It takes a bit of time to do it but it's worth it. It's a great gelato. The texture is perfect. The taste is so good. The mint has a strong taste with the chocolate. It's really yummy. Even my son likes this geleto. Thanks Charlotte :) Made for PRMR tag game
Bring 2 cups of milk to a simmer.
Add mint and simmer a few minutes.
Then, turn off heat and let steep for 30 minutes.
In another bowl, whisk remaining cup milk with sugar, cocoa powder and cornstarch.
Strain mint out of the warm milk and bring back to a simmer.
Add the cocoa mixture slowly, whisking to incorporate.
Cook until edges bubble and then a minute longer until mixture is slightly thickened.
Strain through a fine wire mesh strainer.
Cover with plastic and let sit cool in the fridge overnight or put over a bowl of ice to cool.
Once cooled, freeze according to your ice cream maker's instructions.