rsh1106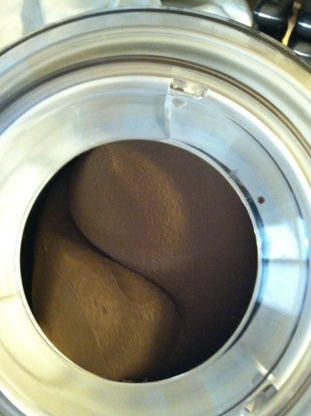 This is a really rich creamy dark chocolate ice cream from the Joy of Cooking, 75th Anniversary Edition (2006). I found it on a blog where they had decided it was the best dark chocolate ice cream. I had some nice Scharffen Berger's semisweet chocolate squares I wanted to use up, and this recipe looked like it would do the trick. Turned out really wonderful, hope you will enjoy it as well.
Bring whole milk and 1/2 c sugar to 175 degrees in a heavy saucepan over medium heat, stirring until sugar is dissolved.
Meanwhile, use an electric mixer to beat remaining 1/4 c sugar with yolks until mixture turns pale yellow and thickens, about 2 minutes. Beat in cocoa powder until mixture is smooth.
Slowly beat 1/2 c hot milk from pan into yolk mixture. Pour this mixture back into saucepan. Stirring constantly, cook this mixture over medium-low heat for 8 to 10 minutes, until custard reaches 175°F on a thermometer and coats the back of a spoon.
Remove saucepan from heat; strain custard into a plastic bowl with a lid. Add chopped bittersweet or semisweet chocolate to the hot custard and stir constantly until chocolate melts. (note: I grated my chocolate instead of chopping it so it would combine easier.) Whisk in heavy cream and vanilla.
Cool custard to room temperature. Seal container and refrigerate until custard is cold, about 4 to 8 hours. (Note: I usually make the ice cream mixture the night before, then chill overnight and make the ice cream in the ice cream maker first thing in the morning, that way I know its cold enough!).
Pour into an ice cream machine and freeze as directed (I have a cuisinart and it takes 25 minutes).