Dark Chocolate Fridge Squares
flower7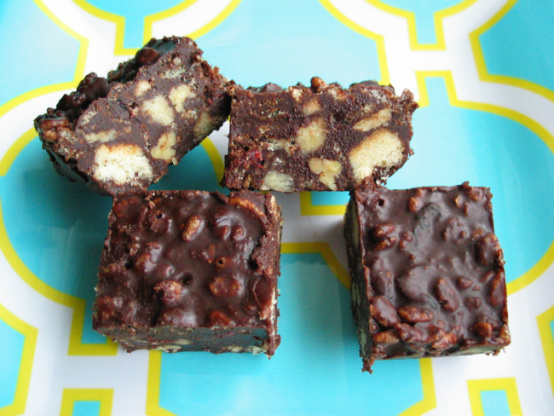 A very simple recipe that's easily adapted to whatever you have in the cupboard. I am driven crazy on a regular basis, being pestered to make these...so be warned!

So wonderful! I used mostly 70% chocolate but didn't have quite enough so added some 49% to make up the difference. I did use the rum but skipped the white chocolate. Used pecans and instead of glace cherries I used sweetened dried cherries. I could have gotten a hold of digestives but instead I used some shortbread cookies I had on hand that someone had given me. Love these so so much! Thanks for sharing!
Melt the dark chocolate, butter, syrup and rum in a large saucepan.
Break up the biscuit and mix it into the chocolate mixture along with the rice cereal, nuts and cherries.
Line a 7" square tin with parchment paper. Push the mixture into the tin and then chill for 2 hours.
When set, drizzle with melted white chocolate--optional.
Cut into squares and watch them disappear before your very eyes!